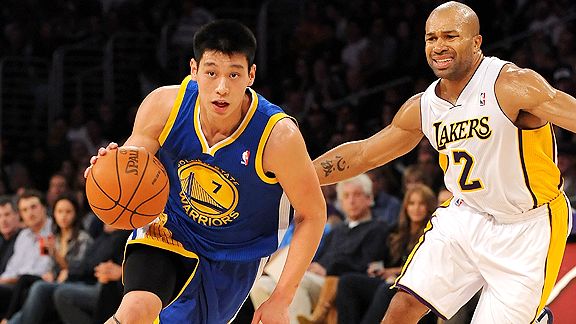 A truck driver slash advanced statistician Ed Weiland is often credited as the first to have "discovered" Jeremy Lin.  However, I only learned today that Casey Mack is first to have "seen" talent in Jeremy's game to be not only NBA worthy but also Steve Nash-esque in both style and in substance before Lin ever even played a game professionally.
Here are some excerpts:
The Golden State Warriors have a very promising Stephen Curry playing the J-Kidd role, the unquestioned starter at PG who is going to put up impressive numbers across the board. Monta Ellis is the explosive combo guard who can still slide over and play PG, just like Kevin Johnson (albeit just entering his prime). That leaves Lin as the virtual unknown, who is gaining props after the Summer League run he had in Vegas. Just like Nash, Lin didn't hone his skills at a college basketball powerhouse. Just like Nash, he is a minority in the game who has had to prove himself at every step in the process and plays with a perpetual underdog chip on his shoulder.
Author sets the premise by pointing out some background similarities between Lin and Nash.
Their size and style of play are also fairly similar. Both stand 6-foot-3, both weigh around 200 pounds. Each is a blur in the open court, with great vision and dependable pull-up jumpers. And most of all, both Nash and Lin rarely pick up their dribble, a lost art among point guards. By always keeping his options open with the ball in play, Nash creates extra time and space for himself and for his teammates to get open and get buckets. I think that knack for keeping his dribble is what will translate into Nash-type success for Lin more than anything. Very few players can keep their dribble while under pressure, and those who do increase their chances of being good NBA point guards.
Here the author's main point is Jeremy's most important similarity to Nash's ability is to keep the dribble alive while under pressure, and this gives his teammates more opportunities to get open looks.
I know it's insane for me to make such a bold suggestion before Lin has even played an official game. He's not even a starter. And while Nash was at least a first-round draft pick, Lin's name wasn't called on Draft Night. However, to me I just see special intangibles when I watch Jeremy on the floor.
This special intangible that the author talks about escapes all college, NBA and even Lin's own NBA coaches' eyes.  Reality is sometimes ridiculous, but only a few NBA insider has claimed Lin is capable of what the author has mentioned such as Calvin Murphy and George Carl.
Source: Article by Casey Mack
Further reading:
Casey Mack — The Man Who Completely Predicted Linsanity
Credit MrPingPong at Jeremy Intelligence for discovering the Mack article.